Professional Detailing Training for New AND Existing Detailers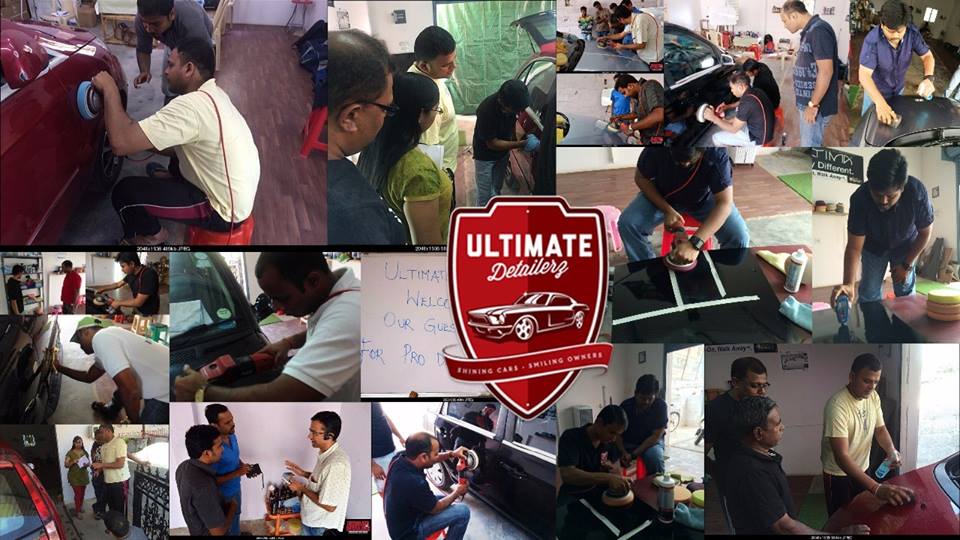 Afew years back, taking a cue from how we started with little support and no help, Ultimate Detailerz pioneered the concept of providing a professional detailing training in India for those looking at starting up a detailing business or existing professional detailers looking to upgrade
The motive? The struggle that involves getting the right knowledge, access to products and tools and proper guidance can be eased for those looking at putting their heart and money into this field. Also of course to reach out to some like us- who have a heart for this and want to have fun as well as make a living from what they are passionate about.
We have completed several training's ALL India and have had great success hand holding and helping folks learn the ropes of professional detailing. With our support detailers have grown and are doing well in their field, so we have made a few changes to our training offerings and eligiblity.
We offer this training ONLY to those who are willing to invest in a CARPRO AUTHORIZED/CERTIFIED Detailing unit AND/OR a Ultimate Detailerz FRANCHISE. We do not offer this for a detailing start up who wants to learn but would not be interested in an affiliation with our brands as then only we can support folks long term and are assured of their success using the best names and processes
How is our professional detailer training structured:
· We first analyze the need of the audience via a detailed questionnaire which is sent out before hand
· A structured curriculum is shared with the participant based on the replies we get. It covers the most relevant topics for the audience. A newbie need not know about "Orange Peel" for example, however an already well versed detailer should get some hands on with wet sanding! This approach helps arrive at the exact audience demands
The importance to do an effective detailing training is to know what level of expertise exists hence we have ample communication before we actually decide on the detailing training dates and curriculum
How do we execute:
· We have a dedicated facility with ALL the right tools( well almost) to get you started off. We invest in getting the latest technology as well as test panels to ensure adequate hands on is provided.
· We keep it simple! Here you will not see any fancy add ons in our facility, rather focus on the work which is more important!
· We first agree on a date and arrange a test car for the audience for the detailing training
· Our office is simple- separate from our facility where our audience is welcome and get introduced to the layout and tools
· Theory is little, more practical hence the curriculum is divided with timelines given for each section- the audience knows when to expect what
· Our support staff- well trained in detailing is able to get the audience oriented with the ambience and tools. We have people experienced in the paint industry for over 25 years, simple but knows even what is tribal knowledge to help with some finer aspects that is not known to many! We especially involve such folks for this training
· The detailing training has hands on with the BEST brands- from Scholls, Meguiars, Menzerna, Car Pro, Ultima, Lake Country, Sonus, Poorboys, Auto Finesse, Klasse, Flex and more! Ultimate Detailerz carefully selects the best detailing products and what is available locally as well as IMPORT those which are not to ensure the audience has a vast array to learn from. These are all based on hands on experience of detailing cars and not just theory!
· We train the audience on a car- LIVE hands on as well as on test panels so that they get a feel in real life what it is to detail a complete car
We will travel to your location if needed and deliver this detailing training, the logistics will need to be discussed, so this is available ALL OVER INDIA now.
Additional Aspects that make this detailing training a COMPLETE Experience and most of all -FUN!
Set up: The Detailing training will cover facility set up, layout etc on how to have a high standard detailing facility. We have a MODEL facility done at Bengaluru and guide you on ALL aspects of civil work, layout plans, lighting, signage and branding too!
Customer Interfacing : How to understand the customer needs, educate the clients and position offerings based on the client
Business development aspects: What it takes to market, promote your business and get the right visibility for your detailing set up
Sourcing Tools and Material : We have the RIGHT sources for genuine and quality material what is needed for a detailing business. We supply many of the brands but what we do not, we get you directly connected thus avoiding any middle men hassles etc.
Follow Up Support: We allow follow up visits to witness live car detailing sessions FREE, our training is 1-2 days but post that you want to hang around and watch- be our guest!
Post this via our network with the best detailers all over India you get the keep learning and get updated with the best tools and products.
We also get you BEST offers on products, machines if you be a part of our growing professional detailers network all India.
Our alliances with leading brands like Carpro, Meguiars, Flex, Menzerna, Rupes, Ultima get you products at best prices always!
· We believe that detailing has MOST aspects that can be CAUGHT and not TAUGHT hence observing and getting your hands dirty both are essential!
· We provide a chance for you to call us to your location for follow up support and have us audit your processes as well as methods!
· UltimateDetailerz have been trained by Scholls Concepts as well as are the ONLY CARPRO Authorized Detailer in India. This makes your experience unique as we share the best tips and tricks from over 1000 cars detailed plus knowledge from industry leaders!
How do you avail this?
Write to us, and feel free to connect to some of our ALREADY trained detailers, we are a family and love to welcome more! We are offering this on a LIMITED basis and from FREE TRAINING to a complete set up solution, ALL is offered based on your needs and budget
In special conditions we will offer this training subject to candidates buying a MINIMUM value of package of goods from us
For more details please write to [email protected] or [email protected] with your requirements and we will share the full details
Finally- do not forget that detailing is a LOT about having fun!